Tap Forms helps you organize all kinds of things in one place – secure, searchable, and accessible on your Mac (iOS + Apple Watch app sold separately). How can one app organize everything? Because not only can you use and customize the 33 built-in templates but you can create your own "forms" for inputting any kind of information, even if that information includes pictures, doodles, audio recordings, calculations, file attachments, ratings, or even links to other forms. This makes it almost like building your very own customized organization app.
Features
Capture your way: add a picture, type some text, attach a file – there are 23 different types of information that can be captured with Tap Forms.
Organize your way: Create and design custom forms exactly how you want to for optimal organization. Get started with one of our ready-to-go form templates, or easily make a custom one from scratch with our integrated form building tools.
Store confidential data with confidence: Tap Forms' security settings let you optionally require a password, and even auto-lock when idle for a custom period of time. Using AES encryption, you can rest easy knowing your data is safe and secure.
Import, export, share: It's easy to import your data from existing files, so getting started is a breeze. Import your data from text, CSV, Bento and more. Exporting allows you to share with Mac, Windows, and Linux users.
Advanced Features
Layout designer for creating custom form layouts
Sync with Tap Forms for iOS and Mac with or without the cloud
Advanced search rules with multi-field record filtering
Lightning-fast search
Share form templates with friends, family, and co-workers
Import and export standard text, CSV and XLSX files from Excel, Numbers, or other systems
Print 24 different types of barcodes including ISBN, UPC, Code 39, QR code, EAN, and more!
Label printing engine includes over 1,000 Avery label templates
Print record details
What's New
Version 5.2.4:
Added NEWDATE() function to let you specify a bunch of date components in order to get a date value back. E.g. NEWDATE(2017,11,0,5,4,0,0,0,0) will return the 4th Thursday in the month of November in 2017.
Added EOMONTH(Date, X) which will return the end of the month for the specified date for the specified number of months ahead or behind Date as specified by the X parameter).
Added DATEADD() function to add a specified date component to the provided date.
Added STR2NUM(A) function to convert a string representation of a number to a real number that can be used in mathematical expressions.
Added DATEVALUE(A,B) method which will return a real date given a string representation of a date and a date pattern to parse. For example: DATEVALUE("2017-11-23", "YYYY-MM-dd") will return the date Nov 23, 2017.
Added AVG(X;Y;…) function to calculate the average of a set of fields. 0 and empty values are ignored in the calculation.
Fixed bug with printing Date fields. If you had the "Print Empty Fields" print option turned OFF, date fields would not print.
Searching with Show Group Rows enabled on the multi-column list view will now properly display all the data. The record was not being displayed if there was only one record in the result set. Or one less than the number of records meant to be displayed.
Fixed a bug with adding different photos that have the same filename to a Photo field. Tap Forms will now add a number to the filename of the photo added so that it is uniquely named. This could happen even with different fields in the same record.
Pasting into the multi-column list view or the Table field will now add additional records if needed to fit the content on the clipboard.
Added support for duplicating the records in a Table field when you duplicated the parent record.
Fixed a bug where a Note field would be cleared out on a custom layout when you clicked the Save button.
Fixed a bug that caused record selection not to work if you searched all forms and then cleared the search field.
Improved text highlighting on the Forms List screen when renaming a form.
Note fields can now be cleared completely and the content won't revert to the previous value on a custom layout.
Added font size slider to the Formula Edit screen to let you change the size of the font.
Added support for remembering the layout orientation on Note fields on a custom layout. Useful for vertically oriented Japanese text.
Compatibility
OS X 10.11 or later, 64-bit processor
Screenshots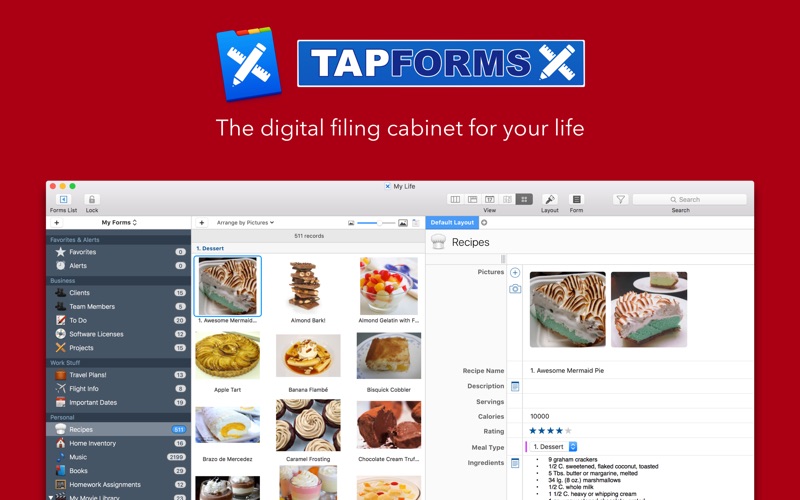 Download Now