Meta helps you manage your ever-growing digital music collection.
With Meta you can easily edit information such as a song's artist, title, album, album cover, etc. It supports editing of most audio formats such as mp3, mp4, m4a, flac, ogg, oga, spx, wav, aiff, and a variety of metadata formats including ID3v1, ID3v2.3, ID3v2.4, iTunes MP4, Vorbis Comments and APE Tags.
Features:
A polished, intuitive user interface that adopts OS X's standards
Write metadata to multiple files at once (Batch Tag Editing)
Remove all metadata from files (Strip Tags)
Change typecase (capitalise, upper/lowercase, titlecase), strip underscores
Rename files based on their metadata or instead, convert filenames to metadata
Find & Replace characters, words or strings in metadata, with support for regular expressions (patterns)
Add selected tracks to iTunes, or refresh their metadata using a simple keyboard shortcut
Automatically generate track numbers
Benefit from built in file management operations (Move, Delete, Reveal in Finder)
Interface is compatible with Retina displays
Album covers can easily be set or exported via drag & drop, and it is possible to configure Meta so that it scales, crops, and compresses images each time a new image is set, so as to keep your audio files' size to a minimum.
What's New
Version 1.8:
New:
New Feature: "Compose Tag": You can now compose a tag's value for multiple files, by specifying a pattern of text and metadata.
"Convert Filename to Tags" was renamed to "Convert to Tags": because it now allows selecting a conversion source, which can either be the file name, file path, or another tag. You can now convert a Tag to Tags, or the files' parent folder name to the Album tag for example.
New command: "Select Similar": Extend the current selection with files that hold the same metadata that the one found at mouse-location when making the previous selection. To do this, click on some metadata and then choose 'select similar'.
Enhancements:
Added a general preference to clear the list on drag. When selected, dragging new files will then replace the contents rather than append to the list. Maintaining the option key down while dragging will temporarily reverse that behaviour.
The "Create Directories" feature is now also applying the NTFS/CIFS sanitising preferences to the generated folder names.
Added key equivalents for "Adjust Artworks" ⇧⌘J, "Track Numbering" ⇧⌘N, and global string transforms.
Changed the key equivalents for "Rename Files" ⇧⌘R and "Convert to Tags" ⇧⌘T.
Completions taken from iTunes are now split by comma when parsed into Meta's database.
When exporting playlists or artworks, the initial export location is relative to that of the selected files.
In the event of a failure to save changes, Meta will now display an error, and offer to immediately fix any file permissions issues that may be responsible.
Compatibility
OS X 10.8 or later, 64-bit processor
Screenshots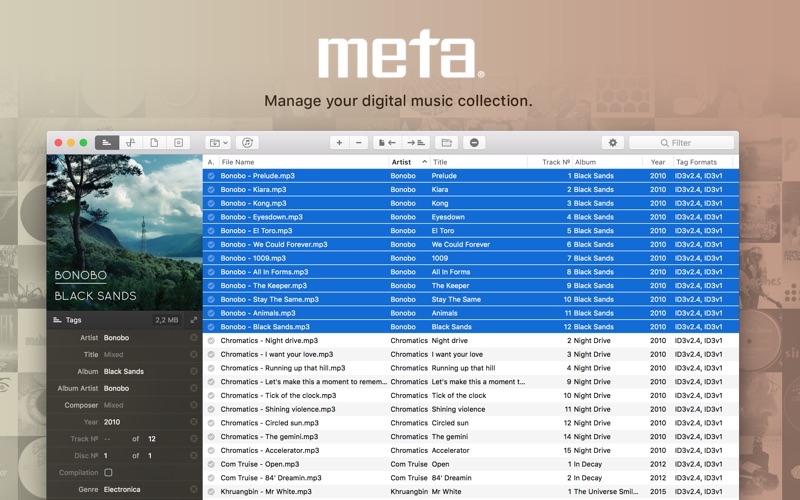 Download Now