Mac OS X 10.7 Golden Master (Build 11A511) (Bootable) | 3.50 GB
This version is only for Intel Apple hardware. Detailed instructions on how to make bootable USB stick inside the file. Or you can burn image on DVD or USB stick.
SHA1 Checksum
4300ae9c35ce8d9dfa43834ba1f787735d4ceb98
Mac OS X Lion (version 10.7) will be the eighth major release of Mac OS X, Apple's desktop and server operating system for Macintosh computers. Mac OS X Lion is set to be released in July 2011. A preview of Lion was publicly unveiled at Apple's "Back to the Mac" event on October 20, 2010. It will bring many developments made in Apple's iOS, such as an easily-navigable display of installed applications, to the Mac, and will include support for the Mac App Store, as introduced in Mac OS X Snow Leopard version 10.6.6. On February 24, 2011, a developer's preview of Lion (11A390) was released to subscribers of Apple's developers program.Preview 2 (build 11A419) was released on March 30, 2011
In hardware and software development, a golden master is the reference model from which copies are mass-produced. An analogy is made to the production of certain types of physical media. In that process, a mold is cast in gold, from which subsequent copies are derived.
The golden master is usually the release to manufacturing (RTM) version, and therefore the first public/commercial version. It represents the development stage of "RTM" (Release To Manufacturing). Reaching this stage is said to be "going gold", or "gone golden".
Important Warning
This tutorial will require you to format your chosen USB Flash Drive. Make sure there are no important files on your USB Flash Drive that you wish to keep. Once you complete this tutorial, all files previously stored on your USB Flash Drive will be removed and deleted forever. And please make sure you have selected the correct USB Flash drive and partition from within Disk Utility before performing any tasks on it (check, double check, triple check, and check a forth time, fifth time, sixth time, and so on until you are absolutely 100% sure). The consequences of selecting the wrong drive will most likely mean you render your computer unbootable, and you'll almost certainly delete all of your files – files including (but not limited to) your Applications, Photos, Music, Documents, Movies, Email, etc.
Disclaimer: Always make sure you know what you are doing before messing with your Mac. You could seriously screw up your computer by making these changes. Make sure you have recent backups, restore Mac OS X installation media, and most importantly you know what the hell you are doing. USE OF THIS TUTORIAL, AS WITH ALL MY TUTORIALS, IS AT YOUR OWN RISK. I AM NOT RESPONSIBLE FOR ANY DAMAGE ANY CONTENT OR FILES INCLUDED WITHIN THIS POST DOES TO YOUR COMPUTER, YOUR MAC INSTALL, YOUR DOCUMENTS, YOUR FILES, YOUR HOME, YOUR LIFE.
So with those less than gentle reminders and disclaimers out of the way, let's begin.
1. Attach your USB Flash Drive to your Mac. For your reference, my USB Flash Drive is labelled "SanDisk Cruzer Slice Media" and I've named its existing partition "FLASH DRIVE".
1. From your Applications folder and open the Utilities folder.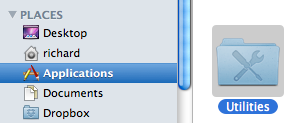 2. From within Utilities you'll see the Disk Utility application. Open it.



3. Disk Utility should now be open and you'll see two main display panes. The left pane displays a list of all the drives on your system: Internal, External and Optical. From this left plane, you can see my Flash Drive labelled "16.03 GB SanDisk Cruzer Slice Media" and it's partition "FLASH DRIVE" directly beneath it. Unless you are using the identical flash drive to me, both these labels will be shown differently on your screen.



4. Now look to the right pane for the option "Restore" and select it.



5. Next from within that Restore pane, you should see an option labelled "Source:" with an input box and a button labelled "Image…"



6. Click the "Image…" button, navigate to the folder containing your DMG file, select your DMG file and then click the "Open" button. This will return you to Disk Utility where you should see something similar to the following image:



7. The next step is to drag your chosen USB Flash Drive partition to the Destination input folder. You do that by holding left click over the partition name (in my case FLASH DRIVE) and simply dragging it across to the Destination input folder; releasing the left click to complete the drop. Check the "Erase Destination" button as it's necessary to make the drive bootable.



8. You are now ready to create your bootable USB Drive installer. You do this by looking towards the bottom of the Disk Utility application for the button labelled "Restore". Click it.
9. Apple will now display a warning prompt. It will ask you to confirm you have definitely selected the correct USB Flash Drive partition, and ask you to confirm you want to erase it. If you have any doubts click Cancel and leave. If you are 100% sure you have selected the correct USB Flash Drive partition, and that you want to erase all the data on that partition, you click "Erase" to start creating your USB Drive boot installer.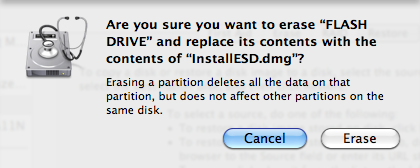 10. Okay one final thing, you will now be prompted for your Mac OS X account password. Once you validate your password, Disk Utility starts creating your bootable USB Flash Drive.
Now created a bootable Mac OS X USB Drive installer from a DMG image. To make use of it, simply reboot your system and hold "alt". Select your USB Flash Drive from the boot options screen.
Download Link
http://www.filesonic.com/file/1376577481/MacOSX_Lion_Gold_Master_11A511_Bootable.part1.rar
http://www.filesonic.com/file/1376577491/MacOSX_Lion_Gold_Master_11A511_Bootable.part2.rar
http://www.filesonic.com/file/1376577501/MacOSX_Lion_Gold_Master_11A511_Bootable.part3.rar
http://www.filesonic.com/file/1376577511/MacOSX_Lion_Gold_Master_11A511_Bootable.part4.rar