iStat Menus lets you monitor your system right from the menubar. Included are 8 menu extras that let you monitor every aspect of your system.
Some features:
CPU – Monitor cpu usage. 7 display modes, multiple core support.
Memory – Monitor memory usage. 4 display modes, page ins/outs and swap usage display.
Disks – Monitor disk usage and activity. 6 display modes, ability to hide disks you dont want to see.
Network – Monitor current and total bandwidth, peak bandwidth, ip addresses, and the ability to hide network connections you don't want to see.
Temps – Monitor the temperature of your mac. 2 display modes, ability to hide sensors you dont want to see.
Fans – Monitor the fan speeds in your mac. 2 display modes, ability to hide sensors you dont want to see.
Bluetooth – Control bluetooth status plus monitor the battery level of your Apple wireless keyboard or mouse.
Date & Time – Date + time in your menubar. World clock display lets you see the time in multiple locations around the world.
What's New
Version 4.04:
Fixed issue with the wrong GPU being shown as active.
Fixed issue with calendar incorrectly showing some days as being in the next month.
Fixed issue with VPN connections causing incorrect bandwidth reading in the menubar.
Fixed several issues with fan control settings not being applied in some conditions.
Fixed menubar layout issue with used/free mode in Disks.
Fixed layout issue with CPU history graphs in menubar in some situations.
Fixed issue in Time where the hour could be displayed wrong with some configurations.
Fixed issue with A/P display in world clocks.
Fixed issue with corrupt history databases.
Reduced disk write frequency of history databases.
Compatibility
Intel, 64-bit processor, OS X 10.6 or later
Screenshots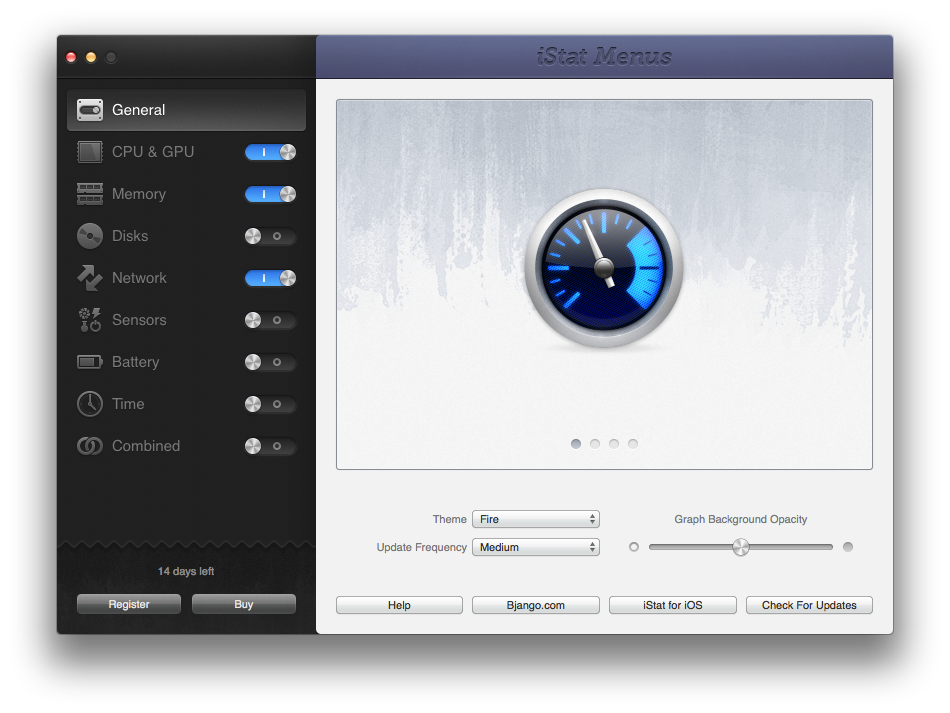 Download Now