Haven is not a tool but a place to write…
Simply put, Haven helps all kinds of amateur and professional writers get inspired and focused on their writing, stimulating their creativity while setting a peaceful mind-set and offering bullet-proof creative writing aids. As a place to write, Haven offers several different locations/themes as well as some of the most used creative writing techniques and tools!
Themes
Select from several places to write. From snowy Jutland to mysterious Kyoto or the vibrant Berlin, there are 8 different animated themes with corresponding music ambiance included.
Character Builder
Get rapid inspiration in order to create your character. Appearance, occupation and traits are suggested randomly as you click.
Plot Generator
Using another well-known technique, this generator puts two characters at a random place, situation and under a given plot.
Random Words
This creative writing technique makes you focus on a random word in a subliminal way. A 3D word appears to float around to help you brainstorm.
Myths & Legends
According to your location (theme), this feature will display mythical stories about that place.
Timer
Be more productive by establishing writing goals and setting up timers using this feature.
Inspiration Dice
Roll these abstract dice to generate words in three categories for creative story writing: mood, object and terrain. Invent new storylines through abstract brainstorming using the given prompts.
The Classics
Meditate and feel inspired by classical literature related to your writing location (theme). All bundled on a neat 3D paper wrap.
Customize
Choose your favourite font style (4 of the most used fonts by writers are included), change or turn off ambient soundtracks and keystroke sounds. Quickly share your creative texts by email or social media channels.
We've tried to conceive and develop a better way to use this fabulous technology called writing. We have investigated, talked to writers, creatives, scientists, students, regular folks and the crazy ones. We have prototyped, got inspired, frustrated and blocked. We finally came up with the needed concept, the main idea.
There are many writing tools but what writers really need is a good place to write.
Compatibility
OS X 10.10 or later
Screenshots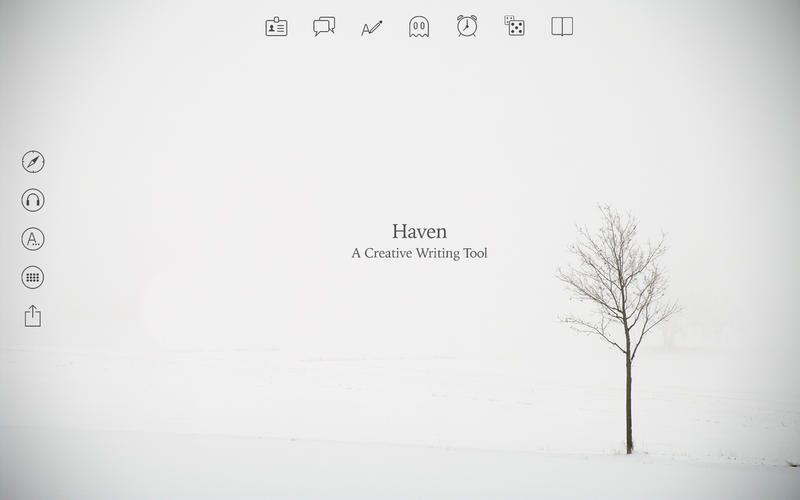 Download Now