CloudPull seamlessly backs up your Google account to your Mac. It supports Gmail, Google Contacts, Google Calendar, Google Drive (formerly Google Docs), and Google Reader. By default, the app performs backups every hour, and maintains old point-in-time snapshots of your accounts for 90 days.
Backup file formats:
Email messages can be imported into Apple Mail individually.
Entire email labels can be imported into Apple Mail as mailboxes.
Contacts can be imported into Address Book.
Calendars can be imported into iCal.
Documents, presentations, and spreadsheets from Google Drive can be opened with Microsoft Office, and can also be imported into Pages, Keynote, or Numbers. Other files from Google Drive are backed up in their native formats.
Google Reader subscriptions can be imported into Safari or NetNewsWire.
Google Reader starred articles can be imported into Safari as bookmarks.
CloudPull provides a Mac native interface for working with your backups:
You can browse current backups and backups from old snapshots.
You can preview backed up items via Quick Look.
You can restore items by dragging them to the Finder.
What's New
Version 2.1.7:
Fixed a crashing bug introduced into version 2.1.6. Sorry about this.
Updated to reflect that Google now exports documents in ".docx" format, and spreadsheets in ".xlsx" format (new in 2.1.6).
Automatically update the folder type of each mail folder when updating the list of mail folders. This helps ensure that CloudPull can reliably identify special folders such as the "All Mail" folder (new in 2.1.6).
Compatibility
Intel, 64-bit processor
OS X 10.7 or later
Screenshots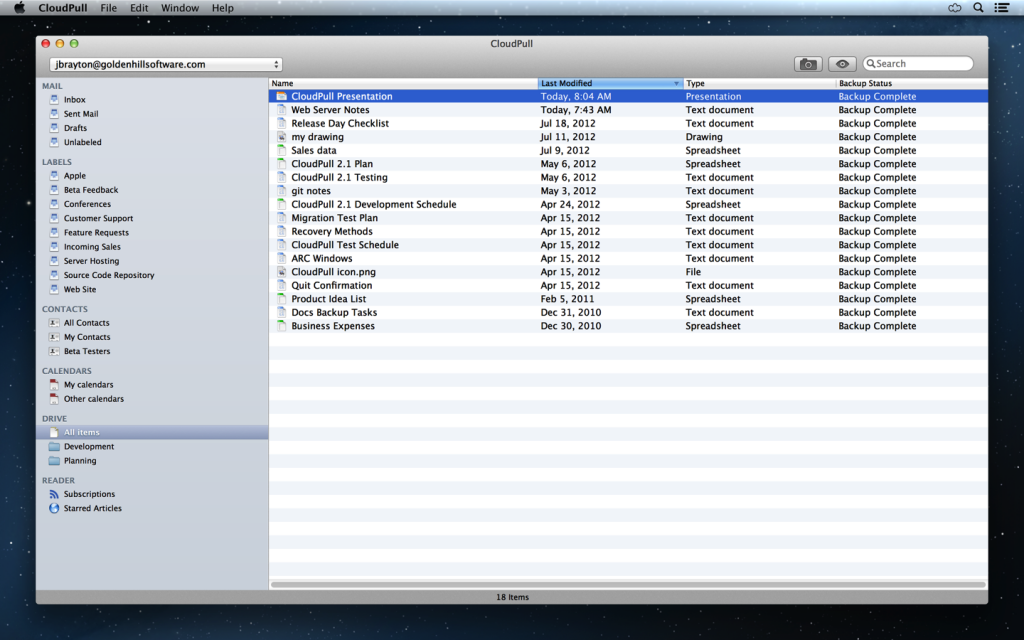 Download Now