Carbon Copy Cloner backups are better than ordinary backups. Suppose the unthinkable happens while you're under deadline to finish a project: your Mac is unresponsive and all you hear is an ominous, repetitive clicking noise coming from its hard drive. With ordinary backups, you'd spend your day rushing out to a store to buy a new hard drive and then sit in front of your computer reinstalling the operating system and restoring data.
With Carbon Copy Cloner, your data and the operating system's data are all preserved on a bootable volume, ready for production at a moment's notice. When disaster strikes, simply boot from your backup and get back to using your Mac. At your convenience, replace the failed hard drive and then let CCC restore the OS, your data and your settings directly from the backup in one easy step.
Any backup application can save your stuff. A CCC bootable backup will save your productivity too!
What's New
Version 3.5.2:
Added support for sending notifications to Mountain Lion's Notification Center. Growl support will continue to be supported for Snow Leopard and Lion, but in Mountain Lion, CCC will only send notifications to the built-in Notification Center. We understand that Growl offers functionality beyond Apple's Notification center, but the time required to maintain support for Growl and protecting CCC from problems specific to Growl has become too much of a burden to continue its support when there is a capable alternative offered by the operating system.
Scheduled tasks configured to run when the source or destination is reattached now have an optional reminder interval. If your source or destination volume hasn't been attached in a given length of time (7 days by default), CCC will run the task and prompt you to attach the volume.
When selecting a folder as the source or destination, CCC now displays a "bread crumb"-style indicator of the path to the folder to make it more clear where exactly the source and destination folders are located.
CCC will now warn you if your USB-attached source or destination volume is "slow", e.g. attached in a manner that results in the interface speed being negotiated to 1.5MB/s or less.
Task names are now sorted in a case insensitive manner in the Scheduled Tasks window.
Improved CCC's handling of MacFUSE filesystems that do not explicitly allow access to the root user.
Made some improvements to how CCC prevents sleep during a backup task.
Improved handling of mounting network volumes with guest privileges.
CCC now offers a simple mechanism for updating the password for the credentials used to mount a network volume in a scheduled task (e.g. if the password was specified incorrectly when the task was created or has subsequently been changed).
There is now only one menu item for creating a Mac OS X Installer in CCC's Source menu. Selecting this item will automatically select the Mountain Lion installer, if present, the Lion installer if present (if the ML installer is not present), or give the user the opportunity to manually select a Mac OS X installer application. The user can also hold down the Option key while choosing this menu item to manually select a Mac OS X Installer application.
When CCC's Cloning Coach reports that the destination's Recovery HD needs to be updated, updating that Recovery HD is now much more automated.
CCC now works around problems cloning a Recovery HD volume that are caused by PGP and Paragon "flavors" of the GUID Partition scheme.
Fixed some issues handling file ownership when the source or destination filesystem is nfs, ppfs, osxfusefs, or fuse4x.
Made a few adjustments that should cause CCC to behave better while logged in as the root user. We don't recommend logging in as the root user, nor do we spend a lot of time testing this configuration, but it should work better now.
Made some improvements to how a logout event is handled. During logout, the WindowServer is torn down. Depending on the timing of that and when a CCC scheduled task manages to exit, it's possible for the scheduled task to make requests to the now-absent WindowServer which can lead to an exception. That exception can place CCC into an indeterminate state for a prolonged period of time. Now if a backup task is running and you log out, CCC will abort the backup task and exit more quickly. If an exception occurs, a secondary termination mechanism will reliably terminate the scheduled task, allowing it to properly reload and reconnect to the new WindowServer process.
Some email servers require SSL but do not support STARTTLS, which is the IANA-approved standard for negotiating SSL-protected connections to SMTP servers (http://tools.ietf.org/html/rfc3207). This update accommodates these servers by pre-negotiating an SSL connection when using port 465.
Made some minor user interface adjustments to accommodate the behavior of encrypting Fusion volumes.
Fixed the errant presentation of a configuration concern when the destination volume's Recovery HD OS version is not a perfect match to the OS version on the source. It is appropriate, for example, for the source volume's OS to be 10.8.2, but the Recovery HD volume's OS to be 10.8 (because Apple does not update the Recovery HD during ordinary OS updates).
Fixed a schedule calculation issue for monthly tasks in which some months could be skipped.
Fixed an issue in which some folders in the list of items to be copied could not be opened.
Addressed a couple issues where CCC would hang while trying to retrieve information from an unresponsive volume.
Filenames that use more than 255 bytes (e.g. less than 255 characters, but with non-ASCII, multibyte characters) are now preserved properly.
Fixed an issue in which applying the Mac OS X 10.8.2 Supplemental update would cause CCC scheduled tasks to report that "Mac OS X is not responding to CCC's request to perform a privileged task".
Fixed an issue in which CCC was unable to copy files to the destination if the root folder of the source was locked.
Compatibility
Intel, OS X 10.6 or later
Screenshots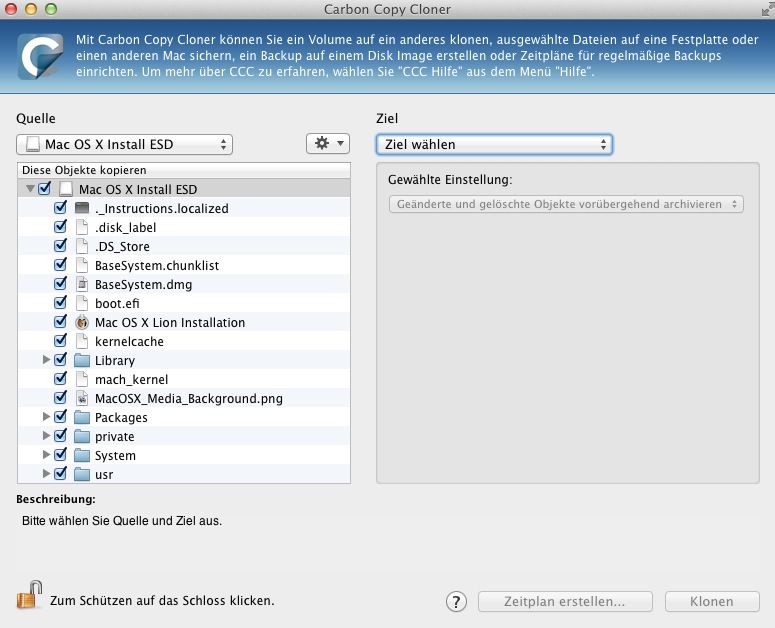 Download Now