Affinity Designer is an incredibly accurate vector illustrator that feels fast and at home in the hands of creative professionals. It intuitively combines rock solid and crisp vector art with flexible layer management and an impressive range of high quality raster tools for finishing. With accuracy, quality and speed at the heart of every single design task, and the ability to finesse designs without switching apps, this fresh-faced multi-discipline illustrator lets creatives shine.
Vector tools:
Node Tool
Pen Tool
Pencil Tool
Vector Brush
Gradient Fill Tool
Transparency Tool
Crop Tool
Targeted Insert
Text
Alignment Guides
Raster tools:
Lasso Tool
Selection Brush
Pixel Brush
Paint Brush
Eraser
Dodge
Burn
Smudge
Blur
Sharpen
Other features:
Adjustment layers
Layer effects
Blend modes
1,000,000% zoom
Instant undo
Tablet support
What's New
Version 1.1.2:
Fully optimized for OS X Yosemite and iMac with Retina 5K display.
iCloud Drive Support.
Added Stroke alignment options for Inside and Outside strokes.
Improved performance for Pencil and Brush Tools, also improved the shapes they create.
Introduced 'Continuous Export' feature to Export Persona.
Added automatic @3x export support.
Clipboard now supports vector copy and paste between other applications.
Images can now be replaced in-place.
Improved SVG and PDF export.
Also improved JPEG export quality.
Many printing improvements.
Improvements to boolean operations and Expand Stroke function.
"Gamut check" option for Soft Proof adjustments.
Many OpenType improvements.
Users with integrated and discrete graphics cards can now opt to only use the integrated card for power saving.
Pen tablet users can now automatically change to the eraser tool by using the eraser tip of their pen.
Numerous other performance improvements and bug fixes.
Compatibility
OS X 10.7 or later
Screenshots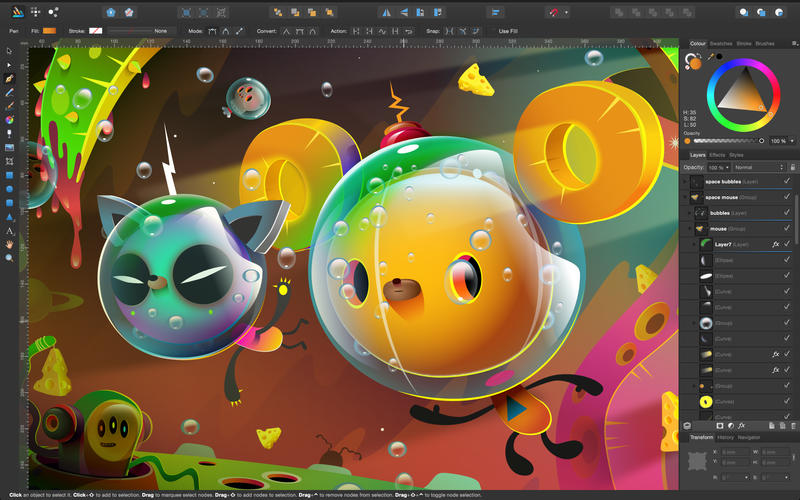 Download Now